Connect My Canon TS6220 Printer to WiFi: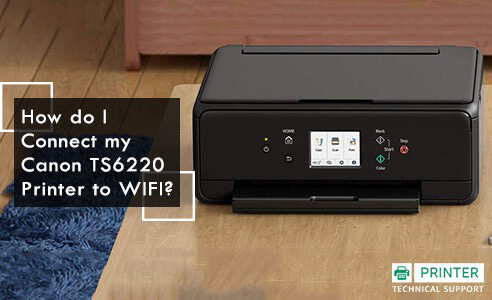 If you wish to print or scan wirelessly using your Canon PIXMA TS6220 printer, you need to first connect your machine to the wireless network. Mentioned below are the steps that you need to follow for connecting your printer device to the wireless network.
The Setup Process is Divided Into Two Parts.
Start easy wireless connect on your machine
Run and download the setup file for installing the software and drivers
1) Start Easy Wireless Connect on Your Machine
Before you begin the setup on your tab, smartphone, or computer system, turn on Easy Wireless connect on your printer. After that, complete the setup process on your smartphone or computer.
Mentioned Below are the Points That You Need to Follow for Starting Easy Wireless Connect.
Please ensure that your printer device is powered on. When the device is turned on, power lamp A will turn on.
After that, press the button of Home on your printer device. If the error screen shows up, then select OK and then press "HOME" button.
Then, tap on Wireless connect.
After that, you will see a dialog box stating that the settings will be made on your smartphone or computer. Tap on Yes to confirm.
Once the printer preparation gets completed, you will see a screen where you will be asked to follow the instructions on your device or computer to perform the operation. The printer device may take some time in getting detected and then the screen will change.
2) Run and Download the Setup File for Installing the Software and Drivers
Start setup-
Click on start setup and then select "Next" on the first screen.
To install Helper tool, enter the username and password of your computer and then select install helper.
Now, select start setup.
Choose the appropriate region and then click on "Next".
After that, you will see the license agreement screen. Read the agreement carefully. Click on "Yes" to move ahead with the installation process or click on "No" to cancel. If you will select No, then the installation process will not continue.
Then, click on "Agree" or "Do Not Agree" screen for using services related to the Canon product.
Now, click on Yes and connect using this method.
The setup will continue.
If you see 'setup wants to access key "My Network" in your keychain' screen, then click on Allow.
Once the connection is established, click on "Next".
Now, select Add Printer.
Click on TS series with Bonjour Multifunction given in the "Kind" column.
From the Use dropdown list, select AirPrint or Secure AirPrint.
Select Add and go back to the helper tool.
Now, continue by clicking on "Next".
After that, you will see "Test Print" screen. Again click on "Next".
Then, the setup complete screen will be displayed in front of you, click on "Next".
After that, you will see the software installation list. Choose additional software and then select Next.
The installation process is going to take a few minutes to complete. After that, click on Next.
After that, you will see " You can Print from a Smartphone or Tablet" screen. Select "Instructions" if you are using a tablet or a smartphone. If no, then click on "Next".
Then, you will see "Printer Registration" screen, then select Register Now or Skip.
After that, select create a shortcut on "Creation of Shortcut to Online Manual" screen and then click on Next.
In the end, select exit.
So, the above-mentioned were the steps that you need to follow to connect Canon Printer to Wi-Fi.