Connect Canon TS6020 Printer to WiFi: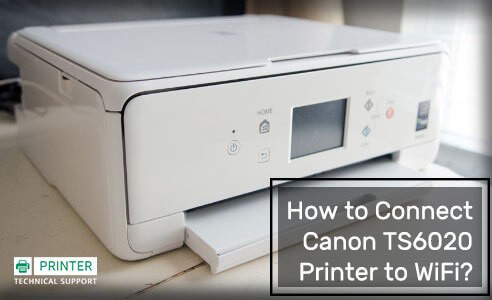 Canon Wireless printer comes with inkjet technology with touch screen display feature with wireless connectivity features. Wireless connectivity feature specifies that you can connect your printer with wireless network to get printout from different computers which are place at different place.
Here We are Going to Explain How to Connect Canon ts6020 Printer to WiFi.
To be able to use canon printer wirelessly, firstly your canon printer should be connected with wireless network and essential software driver should be installed at the computer to connect with your printer.
Here We are Explaining Two Steps Which are Used to Connect Canon TS6020 Printer to WiFi.
Start easy wireless connect on the printer.
Download and run the setup file to install the driver and software.
Method 1 : Easy Wireless Connects on the Printer:
Before starting setup on your computer, tablet and smartphone, first you need to start easy wireless connect with printer then complete the whole setup.
Printer turn on: You need to make sure that your printer should be turn on. If power LED light is blinking in your printer, then it is in power on mode.
If your printer is performing cleaning operation , you need to wait until finish.
Press the home button on the printer, if any error is displaying then you need to tap on Ok to continue then press the home button again
Tap on the wireless icon button
Now you will get two option which are LAN setting and print details. You need Click on LAN setting option
Then on next setting, you will see three options like wireless LAN, Wireless Direct, Common setting then you need to Click on wireless LAN option
Now you will get another three options like WLAN Active/Inactive, wireless LAN Setup, WLAN setting. Then you need to Click on wireless LAN Setup
You will get options like easy wireless connect, manual connect, WPS, Other setup, then you need to choose easy wireless connect option .
Click on Yes
Now your printer preparation is complete and you will get message on your screen to return on the setup section to complete it.
Method 2 : Download the Setup File and Run it:
First you need to visit the appropriate website to download setup file for your canon printer then read the instructions before downloading setup file, the setup file start to download automatically, if it start automatically that's good else you need to click on download button to download the setup file. Now the setup file downloaded successfully. You can performed setup operation by using CD ROM also.
Now you have setup file and you can start to install the setup.
You need to click on setup file first
Click on start setup button
Then you need to select appropriate region and click on next button
You need to accept license agreement click on yes to accept the license agreement
Now you need to click on agree button after reading license agreement
Click on next button
Now you need to click on yes on the connection method. One important thing is there, you will see your model number at this page. Actual model series number will be display at the time of installation
Now the setup is continue, if you are asked to select wireless router, you need to select your wireless router first and then to connect your wireless router, you need to enter your network key or password and click on next button
Your network setting is responsible to see above screen
Now you will see information page
Now you will get network connection completed page then you need to click on next button to proceed
Now your setup is completed, you need to click on the next button
Now you will get optional application software list, from there you need to select one or more application software from the list. By default all the check boxes are cleared so you need to check on of the application software from the list and click on next button
Click on next button
Click on next or skip button
Now you need to click on exit button to complete the setup
Above we have explained step by step procedure to connect canon ts6020 printer to wifi.