Way to Improve Printing Speed for Printer Connecting to Network there are many reason to low printing speed of printer.
Print Server Overload Causing Slow Printing Speed of Printer-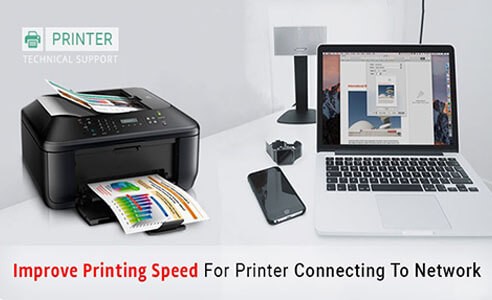 Print servers can cause slow printing because printer are a single point through which all print jobs are being sent and work, if there are problem in one point the printing can become inefficient in the entire network.
To solve the problem to change the way printers are networked so that all print jobs are not sent to one print server to improve the efficiency of the print server.
Slow Printing Speed Print Servers in Remote Offices Causing Network Traffic-
When a company has multiple offices the network printer have centerl print server to which the printer in all office are networked. the problem is that each time someone prints, the print file will sent over wan to the srever which can cause heavy network traffic and slow printing.
The solution to this problem use a direct IP printing in some office,invest in local print servers.
Slow Printing Speed Causing Terminal Servers-
When printing through terminal services Slow printing speed occure because the application is in the terminal server that is completely different geographical location between user and the printer.
The print file will sent over WAN to the printer by user, many users printing at the same time its become high load on the network.
The solution to this problem there are different ways to install printers on a terminals server.