Connect HP OfficeJet Wireless Printer to a Wireless Network: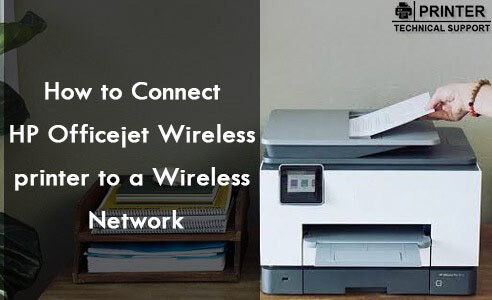 HP officejet wireless printer is all in one printer means it comes with printing feature, scanning and photocopy features. It comes with USB 2.0 compliant high speed support and wireless support. Its memory is 64 MB RAM and 32 MB built in flash memory.
Suppose if you have purchased new HP officeJet wireless printer and you are required it to connect with wireless network for proper functioning.
Here We are Explaining Step by Step Solutions to Connect HP OfficeJet Wireless Printer to a Wireless Network.
First you need to turn on wireless printer. You will use touch screen of your wireless printer to connect with wireless network.
On your touch screen panel, you need to press the right arrow key and select the setup option.
Now you need to select network option from the setup option.
You need to select wireless setup wizard option from the network menu which will search for wireless router in the whole range.
Now you need to select your network SSID from the list.
After selecting the network SSID, you need to enter WEP/WPA passphrase for the network and press done.
Now you will get confirm window where you need to press OK to confirm the setting.
Now you will get the prompt screen where you will see that your network printer is connected with wireless network. You need to press OK and click to exit setup.
Now both the wireless and wired computer on the network is able to browse to the printer and print the page.
This is the complete step by step solution to setup your network printer with wireless network. There are four types of methods which are used to connect HP OfficeJet wireless printer to a wireless network.
HP Auto Wireless Connect:
HP Auto Wireless Connect is a technology that allows you to connect your network printer with wireless network automatically. You need not any kind of cable to connect it and you do not need to worry to enter your wireless network setting like your network name and password. In now a days so many printers does have the same capabilities.
To use this option, first you need to install the software for your printer and follow onscreen instructions . if it is prompted, select network connection type and choose yes send my wireless setting to the printer and rest of thing your HP software will do.
For Using These Features, The Following Conditions to be Meet:
Your computer uses window vista or later version.
Your computer uses a wireless connection to the network and operating system is in control of your wireless adapter so that HP software can retrieve computer's network settings.
One of the most important conditions is, your computer should be connected with over 2.4 GHz frequency. HP printer are not compatible with 5.0 GHz network.
Your computer does not use a static IP address.
Your printer is in HP auto wireless connect mode. Your HP printer will be in this mode after two hours after it is first powered on during installation before connected with network.
WPS (Wi-Fi Protected Setup):
WPS has two modes to connect device together over wireless network. One is called pushbutton and another one is PIN. Push button is the easiest method to connect your device on wireless network.
There are Following Conditions are That are to Be Met in Order to Use WPS Push Button Mode.
Both of your printer and router must support push button feature.
Wireless router should have a physical WPS button is available.
Your network should use WPA, WPA2 security.
Most WPS wireless network will not connect using WPS method due to its manufacturer default.
Connect Your Wireless Printer to Your Router Using WPS:
Start the WPS pushbutton mode in your printer.
For instructions, consult your printer's manual.
Within two button, you need to press WPS button on your router.
HP Wireless Setup Wizard (Product with Display):
First you need to make sure that you know your network name and security password.
On printer control panel, first go to network menu and then touch the wireless icon then go into setting section where you need to select wireless setup wizard. Now you will get wireless network list.
Select your wireless network from the list.
After selecting network, enter passphrase to connect with network.
USB Setup of Wireless (Product Without Display):
Printers without a touch display can use the setup process during the software installation. During this process, you might disconnect with network temporarily. You need to connect or disconnect with network when you prompt to do this.